Keyword Research: 5 Tools to Use in Any Niche for Free
Are you struggling to get enough keywords for your site?
Or are you trying to roll out a new site?
Keywords form the basis of SEO which is probably your sites main online presence. This means you need to make the best use of them in your content to get traffic, leads, and sales on your site.
Performing keyword research is the first step to getting the right keywords for your site.
These 5 tools are the best free tools you can find out there to help you with your keyword research.
Here they are…
The main feature about this app is that it's able to generate suggested keywords from multiple search engines.
The keywords are auto-complete suggestions for the seed keyword you input from your preferred search engine. Google is the default search engine but you can use it for other sources, like Bing, Amazon, YouTube, Yahoo, and Wikipedia.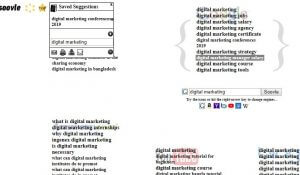 Another great feature is its "Saved Suggestions" that allows you to "drag" and "drop" keyword ideas in a dialogue box. Then, download in a CSV file once you are done.
This has been the most popular tool for over a decade. It's great for keyword research for blog content and a PPC campaign on Google Ads.
The great thing about this tool is that you are keyword ideas from Google's database.
It's very simple to use and you just need to input a phrase for your niche and it generates a keyword list.
Also, it gives you metrics on average monthly searches and rate of competition. Plus, you get a suggested bidding price for the keywords if you use Adwords.
It's very important to pay attention to what your competition to reach or surpass their ranking.
A great way to analyze their keyword data in blog posts is through Wordtracker Scout.
Once you've installed the plug-in on Chrome, it only takes one click on the "W" button on your competitor's webpage. It will generate a performance metric of your competitor's keywords.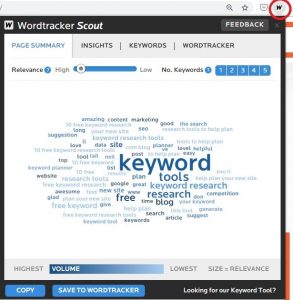 If Google Keyword Planner is your go-to, you should use this powerful tool. It suggests keywords that are available or you overlooked on the Google Keyword Planner.
That said, it's categorization by letters makes it unique and easy to find keywords. Just type in the seed keyword and the letter you to find. Here's an example of "content marketing" and the letter "a":
It's very similar to Google Keyword Planner and generates a keyword list after you enter your seed keyword.
In addition to this, it helps you find keywords that are related to your niche with its Keyword Niche Finder feature.
So, this tool is very useful if you are trying to profitable keywords for your site or niche.
But, the thing is, you only get 30 free searches. After that, you have to sign up for Wordstream Advisor for additional use.
Wrapping Up
If you want to carry out keyword research, you might as well just do it right. It goes a long way in determining your site's SEO performance.
That said, you should try using all the tools we've mentioned above.
Also, you can contact us here if you are having issues with your site's SEO performance.